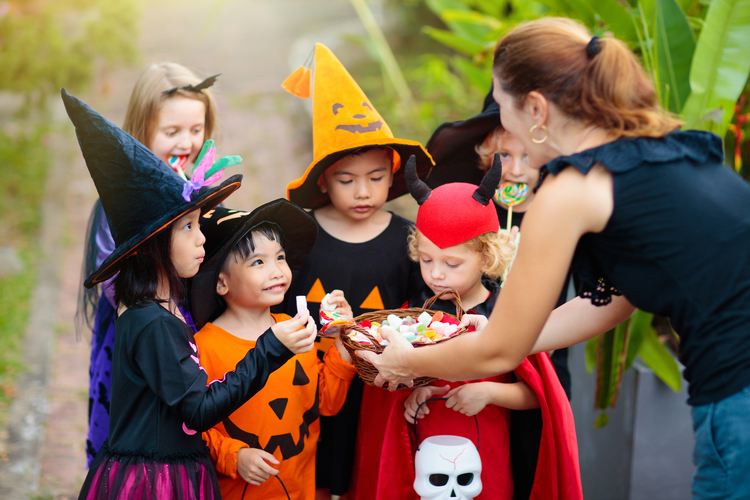 Halloween will be here before you know it and that means lots of tricks or treaters knocking at your front door. Here are a few tips to keep in mind as you're putting up your Halloween decorations as well as things to be mindful of on Halloween night.
Decorating your home before Halloween
If you're going to put decorations on your front lawn, be sure they're visible at night and when you put them up, keep them off the beaten path to your door. You don't want any trick or treaters tripping over cords or unseen wires holding up the decorations.
Remove or highlight potential tripping hazards. Clear your lawn, steps and porch of any obstacles. Make sure tree roots and other hazards are clearly marked.
If electricity is involved, be sure to turn off your display each night before you go to bed and secure any temporary extension cords - and also make sure they're rated for outdoor use.
Create a well-lit path for your trick or treaters.
Opt for battery-operated candles in jack-o'-lanterns or other areas where costumed trick-or-treaters might stand.
Check the lighting of your front entryway or porch and replace any damaged or non-working bulbs. Make
Once it's apparent that most trick or treaters have come and gone, shut off your porch lights, extinguish all candles and call it an evening!
Practice appropriate safety tips when carving pumpkins. The combination of slippery pumpkins and sharp knives can be dangerous.
On Halloween day and night
Clear debris and other obstacles from your lawn, sidewalks and steps.
If possible, park your car(s) in the garage or at least in your driveway. Make sure the doors are locked and windows are rolled up.
Keep your home brightly lit indoors and outside.
Keep pets kenneled or in another room.
If you won't be home on Halloween night there are a variety of options to consider:
- Turn your porch light off, but keep a few lights on in your home.
- Leave your porch light on and leave a few treats in a bowl with a sign saying you're out for the evening but take a treat or two and Happy Halloween.
- Leave your porch light on and a sign on your door saying you're out for the evening and your next door neighbor will be handing out treats for you. (Follow through beforehand by giving your next-door-neighbor a bag of treats!)
- It's also a good idea to ask your next-door-neighbor to keep an eye on your home while you're gone.
Tips for your trick or treaters
Stick reflective tape onto costumes to make your child more visible.
Always accompany young children as they go trick or treating.
Stick to neighborhoods with sidewalks. If you must walk on the street, keep to the far left, facing traffic.
Don't let your child get burdened down trying to carry both a treat bag and a flashlight, especially younger children.
Practice safe crossing procedures: Use crosswalks; wait for corners; and look left, right and left again before crossing. Never dart out between parked vehicles.
No running! Especially on lawns that aren't clearly lit.
Make sure costumes and shoes are the correct size to prevent tripping. Use face paint and leave the masks at home: They can obstruct vision.
If an older child is venturing out without supervision, ask that he or she go with a group, discuss the route and agree on a curfew.
Give older kids cell phones so they can stay in touch.
Check your child's trick or treat bag and remove any questionable items like candy apples or homemade treats