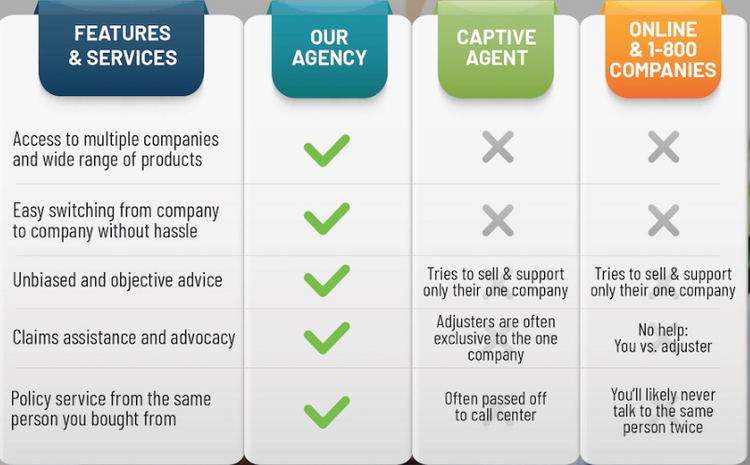 As an independent insurance agency, we're able to offer more choices, help and consistency that you simply cannot get from online or captive agents.
We know how competitive insurance can be as it seems there is always some company saying they can save you more. But purchasing insurance based on price alone negates two key components - coverage and personal service - both of which may save you thousands of dollars over the long run.
As an independent insurance agency, we're able to offer more features and services than you'll ever get from any of those online or 1-800 companies or from any single source agent that is tied to the company it represents. Add in our local knowledge of this market and our almost 50 year history of putting our customers first and you can rest assured that when it comes to your insurance needs, you couldn't be with a better insurance agency.
So here's how we work harder and smarter for you day in and day out ...
Access to multiple companies and products
We're proud to be an independent insurance agency. Unlike captive agents that only represent one brand like Allstate or State Farm or online agents like Geico, we represent a variety of insurance brands. That allows us to find the ideal insurance policy for your specific needs as well as for everyone in your family. And if there's a special type of product you need for your home, auto or business that could provide better coverage options for you, we'll make sure you're aware of it.
Easy switching from company to company
Since our allegiance is to our customer, we'll always work to find the policy that's right for you. If there are better coverage options out there, we won't hesitate to let you know. Insurance needs, just like life, are ever-changing. It's our job to make sure those insurance changes are as hassle-free as possible.
You get our unbiased and objective opinion
We make it a point to know the industry, understand policy language, and follow recent trends. Combine that with our knowledge of your own insurance needs and you can always count on us to provide expert advice and help you minimize your risk. When you call on us, we're not tied to any one company when it comes to answering your questions, clarifying grey areas, or following best practices for your optimal coverage.
We're on your side if you need to make a claim
Going through the claims process can be a harrowing experience. If you were with an online carrier, you'd be on your own. And if you were with a captive agent, the adjuster you'd be dealing with would probably be employed by the insurance company - so guess whose side they're going to be on? We want what's best for you and are ready to help you through the claims process for a fair settlement.
Personal service from day one
In this age of online everything, people forget just how important personal service really is. When you call us, you're not going to be passed on to some call center who have no idea who you are beyond your policy number. We pride ourselves on knowing you as well as your insurance needs and are always looking for ways to save you money while still providing the best coverage possible. That's what being an independent agent is all about.
Not just independent, but local, too
When Charles Meyer founded the agency in 1972, he saw there was a great need in providing local, friendly, knowledgeable and superior insurance services for the area residents and businesses. That need is just as strong today. As we have grown, so has our community support that is evidenced by our numerous sponsorships for local high schools, churches, sports programs, non-profit organizations and community outreach. We're proud to be an independent insurance agency and are committed not just to our customers, but to our community as well and we thank you for your continued support.