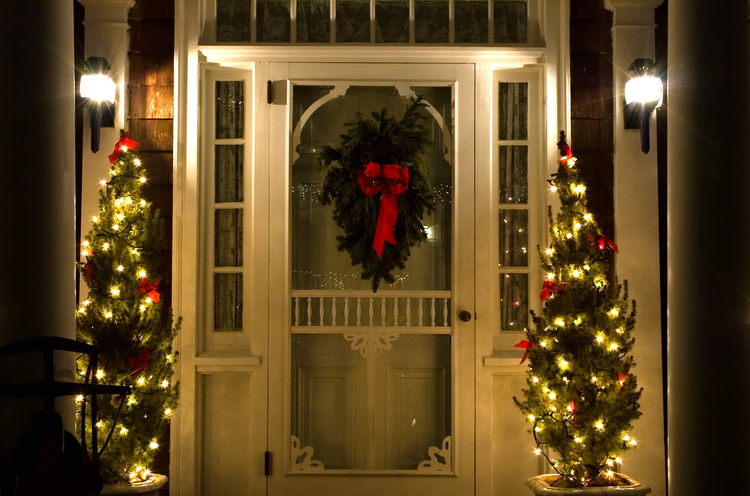 Make sure your holiday season is both safe and merry, by following some of these simple tips.
When it comes to the holidays, insurance concerns are usually an afterthought. But many enjoyable aspects of the holidays can also pose dangers. Consider the following elements of the holidays — and their potential for trouble.
Holiday cooking can sometimes go wrong
Who doesn't love holiday food? Turkey with all the trimmings, Christmas ham and New Year's Day black-eyed peas and greens are a big part of the season's fun.
So what's the problem? Cooking is the leading cause of residential fires in the U.S., according to the National Fire Protection Association. And the average home fire claim costs $34,306, according to the Insurance Information Institute.
What's the worst that could happen? Check out some common ways holiday cooking can go dreadfully wrong (and we're not even talking about fruitcake):
• Pies and pastries. The combination of sugar, high temperatures and lengthy cooking times should produce sweet treats, not sweaty fires.
• Anything, unattended. The sheer volume of dishes included in typical holiday feasts can mean the cook gets distracted during the process.
• Overdoing the eggnog. Cooking while impaired is a blaze waiting to happen.
Chestnuts roasting on an open fire can cause trouble, too
Cooking isn't the only holiday fire threat. Here are some problems associated with turning up the heat and decking the halls.
• Fireplace. Clean your chimney before lighting the first fire of the season. Otherwise, buildup in it could cause a chimney fire. Plus, you want it to be clear when Santa arrives. Keep any holiday decorations at least three feet away from the fireplace and if you're hanging stockings from the mantel, avoid making fires.
• Space heaters. Keep them on level surfaces, and never leave the room with one running. Keep flammable items clear of your unit.
• Candles. Keep them away from curtains or other flammable objects. Again, never leave them unattended, making sure you blow them out before the evening is done.
• Christmas trees. That beautiful green tree can turn into a dry piece of kindling. Water it often and turn off the lights at the end of each night.
• Christmas lights. Don't overload outlets and throw away frayed strands.
When the weather outside is frightful, traveling is not delightful
Christmas breaks and traveling friends and family means lots of heavy travel days. So the roads and skies – and even the trains and buses – will be packed. Whether it's you or one of your loved ones, make sure there's plenty of time allowed to get to the end destination.
With it being such a busy season, you need to be careful not to drive when you're exhausted. Drowsy driving is nearly as bad as drunken driving. And drunken driving puts you, your passengers and everyone else on the road at risk.
Be prepared for car trouble or inclement weather when you're on the road. Keep an emergency kit in your car, complete with blankets, flashlights, nonperishable food and drink, medications, batteries and other supplies.
Don't spread too much holiday cheer
If you're throwing a party, remember that you could be held responsible if someone has too much to drink and endangers themselves or others. If you are entertaining guests, be sure your walkways are cleared and the inside of your home isn't cluttered by holiday gifts or opened wrapping paper that could lead to a fall.
If you're worried about too much holiday cheer being imbibed, you could opt to monitor party guests by asking them to hand over their keys as the price of admission. That way you can check them when they leave. Be sure to serve nonalcoholic beverages and food to help mute the effects of drinking. Set a last call at least an hour before the party ends. And never serve alcohol to minors.
Keep an eye out for the real Grinches
The holidays are also a busy time of the year for thieves - whether that's in-person or over the Internet.
Keep a close eye on your credit cards – and your credit card statements. Cyber criminals step up their efforts during the holidays. Particularly vulnerable are public Wi-Fi networks. Experts advise against using them for purchases.
Of course, your gifts remain vulnerable to less sophisticated burglars when they're wrapped and under the tree. These days, they sometimes don't even get that far as delivery packages are stolen right off of front porches. Track your orders. You can even arrange to make sure they're signed for upon delivery
Also remember to add your new valuables to your home inventory – a list of possessions in your home. It will help if you need to file a claim for robbery or loss from fire or another covered peril.
Follow these tips and you'll reduce the chances of filing a claim during this holiday season. That means you'll avoid trouble and can concentrate instead on celebrating with family and friends and ring in the new year claim free.