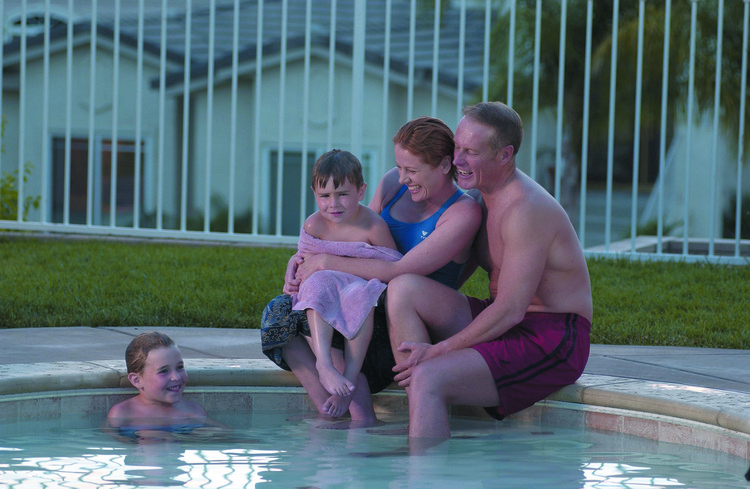 If you're fortunate enough to have a backyard pool, it can provide hours of fun for friends and family. But with that pool comes responsibility. So with pool season just around the corner, we thought we'd share a few rules and reminders, especially for those of you with young children (or young grandchildren).
Start by making sure any kids (friends or family) who are using your pool are capable of performing these five basic water skills:
1. BE ABLE TO STEP OR JUMP INTO WATER OVER THEIR HEADS AND RETURN TO THE SURFACE
2. BE ABLE TO FLOAT OR TREAD WATER FOR ONE MINUTE
3. CAN TURN AROUND IN A FULL CIRCLE AND FIND AN EXIT
4. ARE CAPABLE OF SWIMMING 25 YARDS TO EXIT THE WATER
5. CAN EXIT THE WATER WITHOUT USING THE LADDER
Next, it's a good idea to enforce the rule that no kids are allowed in the pool without adult supervision. Even if kids can swim, accidents can happen.
Walk, don't run. Wet feet can easily slip when running.
Don't dive into shallow water. Enter the water feet first. Dive only off the diving board.
No rowdy play in the pool. No rough games involving dunking, holding your breath for any extended period, or lifting and throwing others into the air.
No glass containers. Beverage glasses can easily break on the pool deck or pool walls. Instead use outdoor-friendly options like acrylic tumblers or paper, plastic, or foam cups, or drink from a can.
Know who's in your pool - especially if you've got a crowd on hand. As the host, it's up to you to do things that can ensure the safety of everyone. Not only should you enforce the rules, but you should also adhere to some of your own.
Insist on adult supervision at all times.
Vigilance is the single most important factor in preventing drowning. Adults should practice arm-length direct "touch supervision" for infants and toddlers even if they can swim. While there are many ways to make your swimming pool safe, there is no substitute for supervision!
Put your phone and other distractions away.
Children can silently slip beneath the surface and drown in seconds—the time it takes to post on Instagram. You don't need to leave your phone inside — in fact, you should keep it fully charged and within reach so you can call for help in case of an emergency. But don't keep it on the edge of the pool - we've heard too many stories of phones getting accidentally knocked into the pool!
Know CPR and have an emergency plan in place.
Knowing even basic CPR and acting immediately—instead of waiting for emergency responders—can make the difference between life and death in drowning cases. If your pool has a deep end, you really should look into a CPR certification course. Consider hanging an all-weather sign with CPR instructions on the inside of your pool gate and be sure to print your home's address on it in permanent marker in case of an emergency.
Have rescue equipment and a first aid kit nearby.
Another consideration for those with a pool with a deep end. Make sure you have life-saving tools (life ring, rescue tube or life hook), a first aid kit and a phone nearby. Store the rescue equipment near your pool in a clearly marked and accessible area, and periodically check to make sure it's in good condition.
Make sure you keep your fence gate closed.
There isn't a federal pool-fence law, but most of the St. Louis metro area has laws that spell out fence requirements, such as minimum fence height and other specifications. Make sure you're within those requirements and if you don't have an automatic latching gate, you should!
Remove toys from the pool.
Don't leave pool toys in the water. Curious children can easily fall into the water while trying to retrieve a toy.
By establishing rules and taking precautions, you can keep everyone safe and ensure they enjoy their time at your pool. That ultimately, will be more enjoyable for you as well!