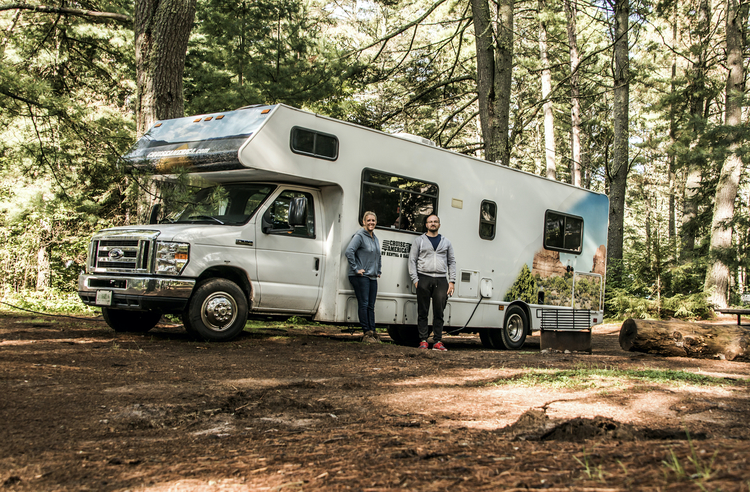 With more vaccinations continuing to improve prospects for getting us closer to back to normal and warmer weather already on its way, a lot of people are making plans to get out and about in the coming months. For many, that may be in an RV, ATV or a motorcycle.
Make sure you're ready for the road or off-road by having the right insurance for your vehicle of choice. It's important that you know what coverage options you might have so we'll try and break it down a little more for you. Ideally, give us a call to discuss your needs and we'll work to get the ideal coverage that's right for you.
RVs need specialized policies beyond ordinary auto insurance
Insuring an RV with a typical auto policy leaves significant coverage gaps. That's why your RV should be insured with a specialized policy which covers the things standard auto insurance might miss. Those can include:
· Total loss replacement – This coverage is applicable to buyers of a new RV (defined as being sold within the first five model years). Total loss replacement replaces the RV with a similar unit, even if the replacement costs more than the original. This coverage Is protection against RV depreciation, in event of a total loss.
· Replacement cost of personal belongings – Auto policies usually cover a limited amount of content in a vehicle. RV policies give you the option to specify a limit to include all of your personal belongings destroyed by a covered event.
· Full time liability – Offers liability coverage similar to homeowner's insurance when the RV is parked and is used as a residence. This coverage includes emergency treatment and medical expenses for others injured in or around your RV.
· Campsite liability – Similar to full time liability, but designed for short-term vacationers.
· Emergency expenses – Reimburses expenses related to living outside the RV while it is being repaired, as long as the covered loss occurs a set number of miles from your fixed residence (usually 50 miles). Common expenses covered are lodging, meals, and travel back home.
· Higher liability limits – RV insurance policies allow for significantly higher liability limits than auto insurance. Because most RVs are much larger than cars, they have the potential to cause a significant amount of damage in a mishap. Higher limits provide greater financial protection after an unfortunate incident.
· Medium duty tow trucks – Covers trucks over one ton when used to tow a trailer or fifth wheel.
· Suspend collision coverage when in storage – When your RV is in storage, you can suspend portions of the policy which apply only when the RV is moving on the road, such as collision coverage. This is a cost-saving option because you are not paying for unnecessary coverage.
Coverage for your ATV on and off the road
ATVs are known to have a high theft rate so you definitely need to have it insured. Chances are, your homeowners insurance will not cover your ATV if you ride it off your property or if you trailer it to another location. And keep in mind that if you use your ATV in a state-owned or public park, ATV insurance may be required. Here are some ATV options to consider.
· Collision coverage – Pays for covered damage to your ATV when it hits, or is hit by, another vehicle or other object. This coverage is available with a $500 or $1000 deductible. Collision pays for physical damage to your ATV if you hit another ATV, a tree, a parked vehicle or some other obstacle. You just pay the deductible you selected, and your collision coverage will pay for the rest. Collision also provides coverage for scrapes, scratches, minor dings/dents and other cosmetic/non-structural damage.
· Property damage liability coverage – Insures you against certain damages caused to someone else's property while operating your ATV and in most cases, provides you with a legal defense for such claims if another party files a lawsuit against you.
· Bodily injury liability coverage – Insures you against certain damages if you injure or kill someone while operating your ATV and in most cases, provides you with a legal defense if another party in the accident files a lawsuit against you.
· Comprehensive physical damage coverage – Pays for covered losses resulting from incidents other than collision – such as theft, fire or vandalism. This coverage is available with a $500 or $1000 deductible and is limited to damage that affects the structure or safe operation of the vehicle. In most circumstances, Comprehensive ATV insurance coverage pays for damage to your ATV if it's caused by an event other than a collision. For instance, if your ATV is damaged by fire, theft, vandals, flooding, or an animal, Comprehensive coverage will likely apply. You just pay the deductible you selected and your ATV insurance will cover the rest.
· Medical payments coverage – In most states you can select medical coverage for yourself and your passengers.
· Uninsured/Underinsured motorists coverage – Insures you against certain damages in the event of an accident that occurs on a public road or highway where you are struck by someone with no insurance coverage or limits that are lower than yours. The uninsured vehicle must be a vehicle that is designed to be insured and registered for use on a public road or highway (such as a car, truck, or motorcycle).
· Safety Apparel Coverage – This provides up to $1500 in coverage for damage to any clothing designed to minimize damage from an accident, including helmets and goggles.
· Funeral Expense Coverage - Pays up to a predetermined amount fo funeral expenses associated with ATV/UTV accident resulting in the death of an insured person who was occupying the insured ATV/UTV.
Personalized coverage options for your motorcycle
As an independent agent, we can find the ideal coverage for you and your motorcycle with personalized coverage that can include· Property damage and bodily injury liability – If you cause an accident that damages another person's property or injures someone other than your passenger, these coverages – mandatory in most states – may help, according to your policy limits. Separate guest passenger liability also is generally required.
· Uninsured/underinsured motorist – If you're in a collision with a motorist who either doesn't have insurance or doesn't have enough, this coverage option can help with expenses, up to your policy limits.
· Safety apparel replacement – If your safety apparel is lost, stolen or damaged during an accident, this coverage may provide you with up to $1000 per person to replace helmets, gloves, boots and jackets.
· Medical payments coverage option – If you or a passenger are injured in an accident, this coverage can pay your medical bills, regardless of fault, up to the limits of your policy.
· Carried Contents – Covers personal property that is damaged at the time of a covered loss or covers property stolen off your motorcycle.
· Accessories and Custom Parts/Equipment – You can get additional accessory coverage to protect any upgrades and customizations you've made to your ride.
· Total Loss Coverage – If your bike is totaled and is no older than one model year on a new policy, you can get the full manufacturer's suggested retail price for a brand-new bike, minus your deductible.
· Roadside Assistance – If you break down in the U.S. or Canada, this coverage option enables your bike to be towed to the nearest repair shop for free.