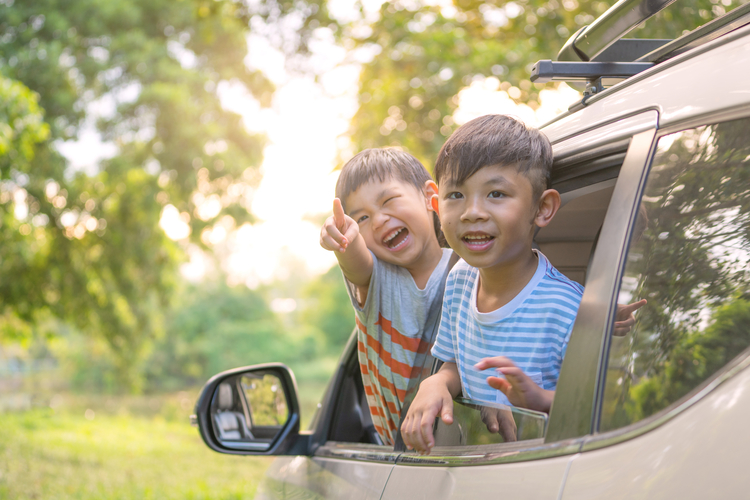 Taking long, extended family trips this summer may be more difficult than usual so we put together a list of some short getaways you might consider.
We're skipping all the usual major attractions, theme parks and museums - though they all should be re-opening but with new new rules in place like booking reservations versus just going there. These destinations are primarily outdoor related activities where you won't have to worry about large crowds - and while many of these may seem a little out of the ordinary to the kids, fun is where you find it!
Visit Elephant Rocks State Park - You'll be amazed at the giant granite boulders that are, well, about the size of elephants! Formed more than1.5 billion years ago, they're waiting for you to be explored in Ironton, Missouri, southeast of St. Louis.
Explore Meramec Caverns - What was once the hideout of Jesse James and his gang is a true, natural wonder and a great way to stay cool in the heat of a hot summer day. In Stanton, Missouri, about 80 west of St. Louis.
Visit Mark Twain's boyhood home - You've certainly heard that Hannibal, Missouri was Mark Twain's boyhood home but have you ever actually been there? Head north of St. Louis on Highway 79 and enjoy a bit of history for the day.
Follow the Trail of Tears - Though the name of Trail of Tears State Park is a sad one, denoting the Cherokee Indian groups that were relocated from Oklahoma and crossed the Mississippi River during harsh winter conditions in 1838 and 1839, the park itself is gorgeous with ample outdoor opportunities. Located in Jackson, Missouri, south of St. Louis.
Enjoy Pere Marquette State Park - Cross over into Illinois and take a drive north on the Great River Road to enjoy great scenery on the way to Pere Marquette State Park where you can camp, hike, picnic or just sit back and enjoy the scenery.
Float one of Missouri's Ozark Scenic Riverways - If you're at all into floating or camping, Missouri offers many options. Near St. James, Missouri which is west on Highway 44, you'll find a range of rivers and camping sites that make it easy to enjoy Missouri's great outdoors.
Spend a day in Forest Park - Beyond the Science Center and the Zoo, Forest Park offers an abundance of activities - from visiting the Art Museum, History Museum, or Jewel Box to paddleboarding, golfing or picnicking inside the World's Fair Pavilion - there's plenty to keep anyone entertained.
Rent an A-frame at Innsbrook Resort - Nature, recreation and serenity all come together at Innsbrook Resort where you and your family can stay in an A frame or a condo to get away from it all without being too far away as it's only about an hour away from St. Louis off of the Wright City exit on Highway 70.
Tour Civil War sites in Missouri - Though the state isn't known as being a true battleground in the Civil War, there are still many trails, historic sites and re-enactments of Civil War activities throughout Missouri. Click on the link above to see a few options.
Reach new heights at Taum Sauk Mountain - Climb to the top of Taum Sauk Mountain and you'll be at the highest point in Missouri. Located in the St. Francois Mountains in Southeast Missouri, the park's wooded areas and rock glades provide a beautiful, solitary experience for outdoor lovers.