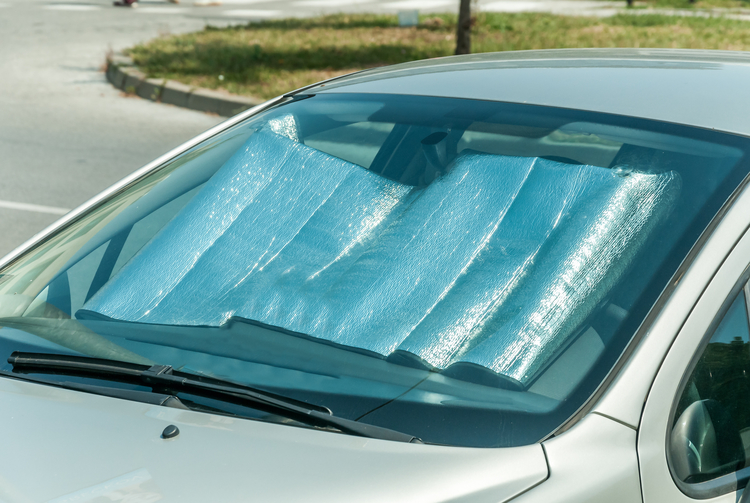 For drivers who don't enjoy intense heat, getting into a car that has been parked in an unshaded area can feel like being roasted alive. Stay cool by using these tips to keep your car cooler this summer:
1. Use a sunshade or window visor
This tried-and-true method of keeping your car cool should be your go-to option to counteract hot interior temps throughout the summer. Put up a sunshade or window visor every time you exit your car for more than a few minutes. Keep it even cooler for long periods by putting a sunshade in your rear window as well.
2. Use a dash cover
A fabric or upholstered dash cover can go a long way towards making your car's interior more comfortable. You won't feel as overwhelmed by the heat if you don't have to touch hot vinyl surfaces. Dash covers also protect sensitive vinyl from sun damage that can cause cracking and fading.
3. Cover your steering wheel with a hand towel
Even if you use a sunshade, it's a good idea to cover your steering wheel with a small towel. This will help to keep the contact temperature of your steering wheel down.
4. Park in a shady area
Whenever possible, park in a shady area (or a garage if that's an option!) If you're going to be somewhere for an extended period of time, it's worth it to walk a bit farther in order to park in the shade. You'll be happy to enter a not-so-hot car when you return from your day out.
5. Keep your precious possessions out of the sun
Any CDs, DVDs or delicate items that you keep in your car should be stored out of the path of direct sunlight. You can also throw a blanket over your precious possessions. If you can't find a place in your car that will conceal heat-sensitive goods, place them in the trunk instead.
6. Keep windows slightly cracked
While it's not a good idea to leave your windows all the way open, it is a good idea to leave them slightly cracked. Check to be sure that you can't fit your arm through the crack in your window. Even a small crack will promote ventilation and help keep your car cool.
7. Throw blankets over your seats
If your car features vinyl or leather seats, throw blankets over them. When you return to the car, you can place the blankets on the floorboards or toss them in the trunk. Keeping your seats cool will make your car more pleasant on hot summer days.
8. Use bottom vents
Most people who enter a hot vehicle open the windows right away to immediately cool their upper body. Since heat rises, the best method is to push the hot air out from the bottom to cool the vehicle as quick as possible. Adjust the fan setting to "max" and close the upper vents so only the bottom vents closest to the ground are functioning. Pushing the air from the bottom to the top helps the stale hot air escape through the open windows. Once the hot air is pushed out, switch to the upper vents to stay cool while driving.
9. Toggle A/C settings
When you first enter your vehicle, make sure you set your A/C to "fresh air" and not "recirculation". Recirculation draws in the interior air and typically works best once the vehicle has reached its desired temperature.
Recirculation is also great when you're stuck in traffic as it prevents carbon monoxide emissions from other vehicles being pulled into your car. Get into the habit of switching to fresh air when you first turn your A/C on, and then switching to recirculation after 5 or 10 minutes.